Regular price
$157.00 USD
Regular price
$240.00 USD
Sale price
$157.00 USD
Unit price
per
Sale
Sold out
I can not stress how rare, luxurious and unique this special leather is. Tanned by Britain's Master Tanners J&Fj Baker.

HISTORY
Arguably the finest leather in the world has made its way to the Orraman Leather workshop and the Cheiftain wallet. Russian Calf leather by J&Fj Baker. Britain's last remaining Oak Bark Tannery. And you can definitely tell this leather is tanned using Oak Bark, It smells incredible!!!

Russian Leather is a legendary material that, until 1970's, was lost in history. In 1786 the Metta Catharina sank of the coast of Devon in the Plymouth Sound where it lay for two centuries under the silt of the sea bed. The discovery of the leather in such fine condition after 200 years at the bottom of the sea floor is a testimony of the unique material's resistance and strength.

J&Fj Baker Studied, replicated and perfected this incredible and extremely rare leather so it was not lost to history and we now have the unique opportunity to use it on this limited edition Chieftain wallet! 

WALLET DETAILS
This vegetable tanned wallet has 4 card slots and a cash slot at the back making it perfect for everyday use for someone with a busy, on the go lifestyle.


Features:
100% hand crafted Hand stitched and hand finished edges.
Handmade Tartan additional option
Vinymo thread for superior strength. 
4 card slots and an interior cash flap 
Guaranteed to stand the test of time  
Dimensions
Open this wallet is approx 6.75 inches by 4.25. Closed it is 3.5/4.25 inches


STITCHING METHOD
HAND STITCHED - This method of sewing is simply superior to machine stitching. It is the most beautiful and strongest way to sew. 
MACHINE STITCH - The machine stitch does not lack quality and still falls under the protection of our lifetime guarantee. Whilst not as nice as hand stitching this method of stitching is of the highest quality. Machine sewn wallets will default to a cream coloured thread.

View full details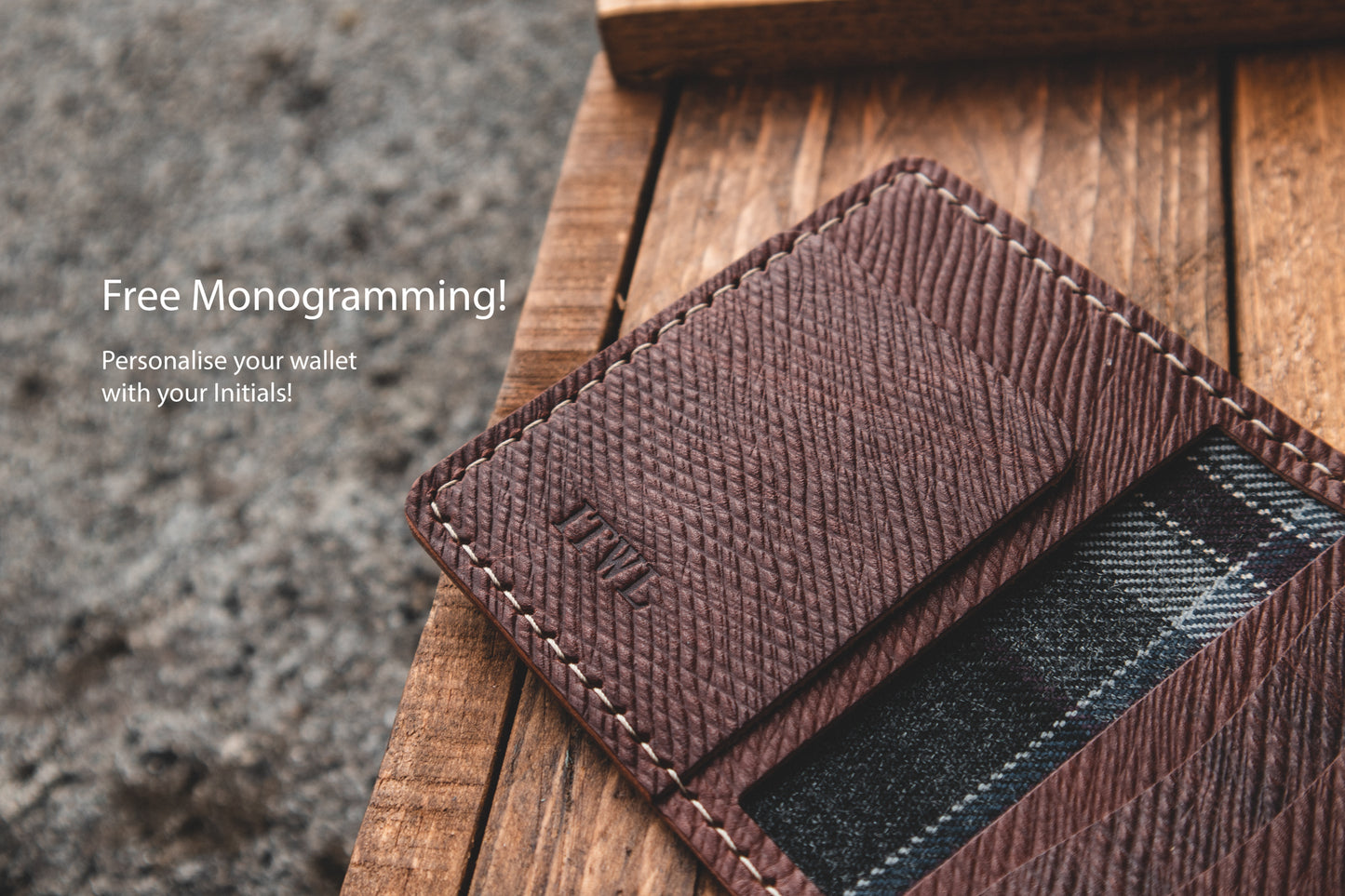 Immense Product
Well made, good price, arrived well
Stunning
Just received my wallet 1 hour ago, hand stitched with tartan. It is gorgeous. At first I was worried the wallet would be too big and bulky, but it's not. It's quite a nice size and it feels amazing! Nice and soft but sturdy at the same time. The leather is a pleasure to hold. I've never been so pleased with a wallet before. I went through many brands for wallets such as Lacoste, Gucci, Belroy, etc. All were nice wallets, but nowhere near as nice as this. The craftsmanship is beyond any of those brands! It screams quality and this leather in particular comes with an interesting history, which for me was a selling point as I am big into history!
Thanks for the beautiful wallet.
Solid purchase
Good stitching, really nice leather. planning to buy again 10/10